thesilentgrove asked: Hi! I found your blog through the miss fox plushie, which is adorablleee. Anyhoo, you mentioned a 3D render- and as a crafty person who often has difficulty drafting up patterns by hand who also learned how to make 3D models in school, this seems awesome! Is there a specific program you use to draft patterns, or do you use a generic 3d modelling program and base your patterns off of the texture maps?
hehe naw.
Sorry to disappoint but I develop them on my own by hand. Here is a picture of a work in progress: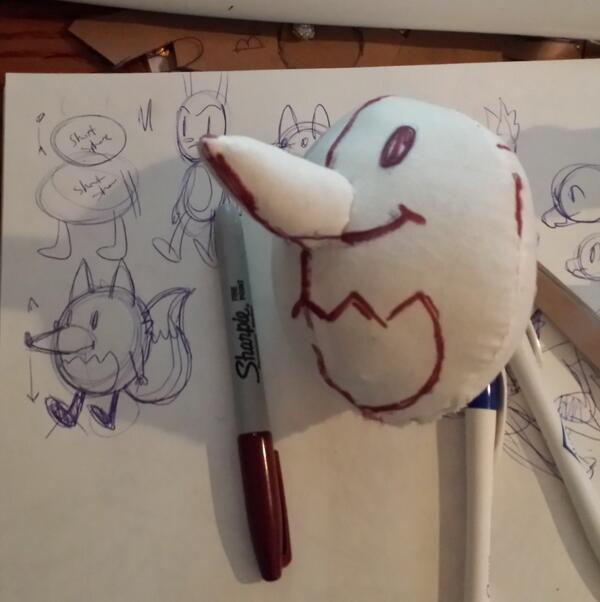 I've been making patterns for a couple years now and I've gotten a pretty good perception of volume because of it. What I normally do is take simple shapes and use them to construct a figure. This figure was simple because she was an elongated sphere. A sphere is made up of four football shaped pieces with points that are 90 degrees. The football has to be twice as tall as it is wide. (I will post a tutorial later on how to create that pattern shape easily)
I elongated that shape a bit by adding a few centimeters in the middle. The tail was a little more complex than the body but I got what I wanted more or less. Sometimes I connect shapes to others and map out where the seams should go so I'm not constantly having to ladder stitch them together. You can see an example of this here.
I use an exacto knife and cut along the seams. I only do it for half of the plush because I intend to mirror the pieces. I flatten them out and trace them the best I can. Sometimes if I can't figure out a shape that's a composite of other shapes, I will make a model out of news paper and masking tape. I squish it into the shape I want and make sure it stays that way. I then put one layer of newspaper and then masking tape on it and draw where the seams should go so when I cut it out, the pieces will be able to lay flat but keeping in mind of making as few seams as possible. When I cut it out, it will be pretty stiff so I have to flatten the pieces before i trace. They will puff back up once I sew together the shape in fabric.
BUT! If you can 3D render, I suggest you put that to good use! I have seen some programs that are used to make patterns but I never really found any that were accessible. I just developed working on patterns on my own. Making patterns is very time consuming and takes up maybe half or more of the time it takes to make a plush. That's something people don't realize and that's why custom plush costs as much as it does.